SL Controls has launched its new suite of products, TOTALline. The launch took place at the National Manufacturing and Supply Chain conference in Dublin today. Read the product launch press release below.
Press release:
An Irish engineering firm has developed cost-saving software that vastly improves production line efficiency and traceability
One million engineering hours spent and €1m invested in developing new software suite
TOTALline launched today by SL Controls at the National Manufacturing Conference & Exhibition
Product streamlines production line management and integrates data collection across multiple sites and machines
New software developed by Irish engineering firm, SL Controls, is set to change the face — and more importantly efficiency — of manufacturing.
Over the past 11 years, SL Controls has dedicated one million engineering hours to the industry and, as a result of this experience, has developed the TOTALline product — a software suite that streamlines time-consuming and resource-draining production line management.
The company has invested in excess of €1m into developing TOTALline.
SL Controls is a leader in the integration and validation of software systems into manufacturing and process equipment, working with world-leading brands in the Pharma, Medical Device, Healthcare and Food & Beverage sectors. The specialist software integration firm has five offices in Sligo, Dublin, Galway, Limerick and Birmingham.
TOTALline is a suite of fully customisable software products that integrates and automates multiple production line functions, as well as data collection and reporting and traceability. This off-the-shelf product is highly-configurable, flexible, secure and fully compliant.
The smooth performance of a factory production line is a critical component in the success of thousands of indigenous and multi-national companies in Ireland and abroad. But many aspects are highly laborious, prone to human error and exceptionally time consuming.
Some companies — especially in the highly-regulated areas of pharmaceuticals and medical device production — devote thousands of man hours to manually log data and oversee key processes such as batch control, batch changeovers, and traceability.
TOTALline is a software product that integrates all these functions into a single, touch-of-a-button package. This off-the-shelf software is easily configured into existing machines across multiple technology platforms.
Instead of losing out on valuable production time that hits the bottom line, the new TOTALline solution gives businesses an easy to use, fully-compliant and secure way to significantly improve the performance of the production line and data management.
Once installed, TOTALline reduces batch changeover times from hours to minutes through automation which in turn frees up essential manpower and equipment. It also slashes man hours devoted to manual record-keeping and storage.
The software comes with powerful analytics and reporting capability including email notification features such as emails confirming batch completions and automated record-keeping.
Set to have a huge impact on the manufacturing industry, TOTALline was officially launched today (January 31) at the National Manufacturing Conference & Exhibition at CityWest Convention Centre. It was developed by a team within SL Controls, headed by Technical Director Paul Clarke and Business Development Manager Shane McLaughlin.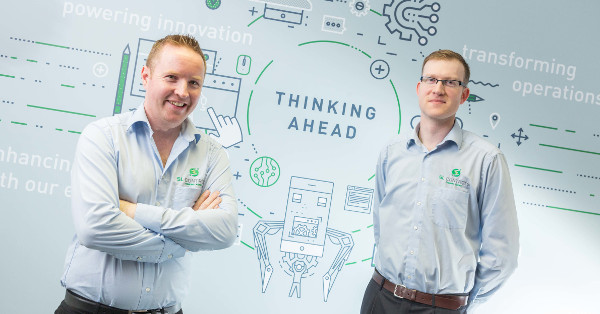 Shane McLaughlin, SL Controls Business Development Manager, said:
"We developed the product over the last 11 years after working with and listening to our clients and seeing what their needs were. Although we are officially launching TOTALline today, we have already started integrating the solution for some of our existing clients and it has been working extremely well, providing significant cost savings and improving their overall manufacturing efficiencies. It is working particularly well for our clients in highly-regulated industries such as pharma and medical devices."
TOTALline has three main products:
TOTALbatch. Manual batch control is laborious, prone to error and time-consuming. TOTALbatch handles the issuing and tracking of every batch; giving you full traceability at your fingertips. It was developed to achieve the production, compliance, and performance standards required in the pharmaceutical and medical device manufacturing industries. It is an off-the-shelf product that can be implemented quickly.
TOTALdata. Existing manual processes are inefficient. TOTALdata works across multiple sites and multiple machines, to allow efficient analysis of operations and enable performance improving decisions. It is also web-based so users can access data from any piece of equipment anywhere in the world safely, securely, and in a fully compliant way.
TOTALsolution. TOTALsolution product allows you to completely customise the solution to match your business needs; a full access package that includes batch and data management tools.