SL Controls continues to grow, increasing the numbers of people we employ across the island of Ireland. This means we have opportunities for engineers, particularly those with controls, validation, and automation engineering experience.
So, if you're thinking about progressing your engineering career, here are 12 advantages of exploring the opportunities that are available at SL Controls.
1. Our Strong and Sustained Growth
SL Controls has been growing steadily over the past 10+ years. In fact, we were recently named as one of the fastest growing technology companies in Ireland.
2. Range of Customers
We specialise in providing bespoke software, validation, automation, and equipment system integration solutions to the pharmaceutical and medical device manufacturing sectors. We also provide engineering consultancy services.
Our customers include Irish companies in the pharmaceutical and MedTech industries as well as international companies that have operations in Ireland. In fact, 7 of the top 10 pharmaceutical and MedTech companies in the world are our customers.
3. Long-Standing Business Relationships with Our Customers
We have been working with many of our customers for several years. Our customers are loyal to us because of the standard of service that we offer as well as the results we achieve.
4. Working at the Cutting Edge
SL Controls operates at the cutting edge of the high-volume manufacturing industry. This means we develop solutions that help our customers take advantage of Industry 4.0 technologies to keep them competitive today and in the future.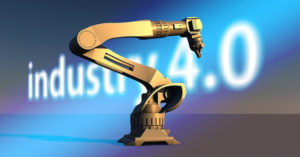 5. SL Controls Has Four Regional Offices in Ireland
The SL Controls head office is in Sligo, but we also have offices in Galway, Limerick, and Maynooth/Dublin. This structure allows us to deliver a better quality of service to our clients, but it also means our employees have a better work-life balance, with less traveling to client or office locations.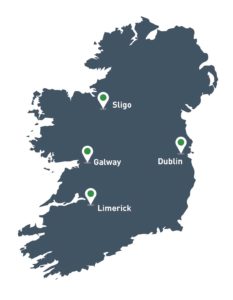 6. Excellent Work-Life Balance
The above point is only one example of the steps we take at SL Controls to help our employees achieve a positive and healthy work-life balance. For example, flexible working and remote working arrangements are considered depending on circumstances, plus we have a proactive HR department.
7. Fantastic Salary and Benefits Package
While we are a medium-sized company, we offer a comprehensive benefits package to employees, plus the salaries we offer are in line with those elsewhere in the industry.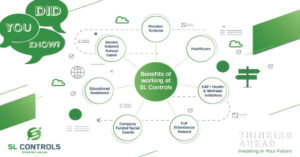 8. Commitment to Employee Wellbeing
Employee wellbeing is central to our HR process at SL Controls. Good examples of this include our Live Well at SL and Think Well at SL programmes. Live Well promotes physical wellbeing while Think Well promotes mental wellbeing.
9. We Give Back to the Community
We have a strong sense of community at SL Controls, too, giving back where we can. In addition, we involve our employees in making decisions on the local causes we support.
10. Our Learning Culture
We have developed a strong learning culture at SL Controls. This includes everything from knowledge sharing to supporting employees who are learning new skills and obtaining new qualifications.
11. Excellent Career Progression Opportunities
Our engineers have multiple career paths they can follow. While moving into management is one option, it isn't the only one that is available. This makes it easier for employees to find a career path that suits their abilities, personality, and objectives.
12. Support and Mentorship
Providing mentorship support to our employees is central to all our business processes as we want everyone on our team to thrive and improve.
Explore Your Career Options Today
If the above sounds attractive to you, please visit our careers' page to find out more about the positions we are currently recruiting for.