Share the Love is SL Controls initiative to support local causes, projects, and initiatives. We focus on the locations in Ireland where we have regional offices – Sligo, Galway, Limerick, and Dublin.
Each quarter we select one office. Each person in that office can then nominate a local organisation or project to receive a donation of much-needed funds from SL Controls.
From these nominations, we create a shortlist of three. This shortlist is then put to a public vote to decide who receives the money. Anyone can vote, anywhere in the world.
Each campaign is run by our Share the Love partner, One Step Closer, an organisation that unites consumers, brands and causes to promote positive action.
In 2018, almost 4,000 people in 26 countries voted in SL Controls' Share the Love campaigns. This resulted in SL Controls donating a total of €2,000 to local causes:
Sligo – €500 to Carraroe N.S
Galway – €500 to the Simon Community
Limerick – €500 to Little BigTop
Dublin – €500 to CMRF Crumlin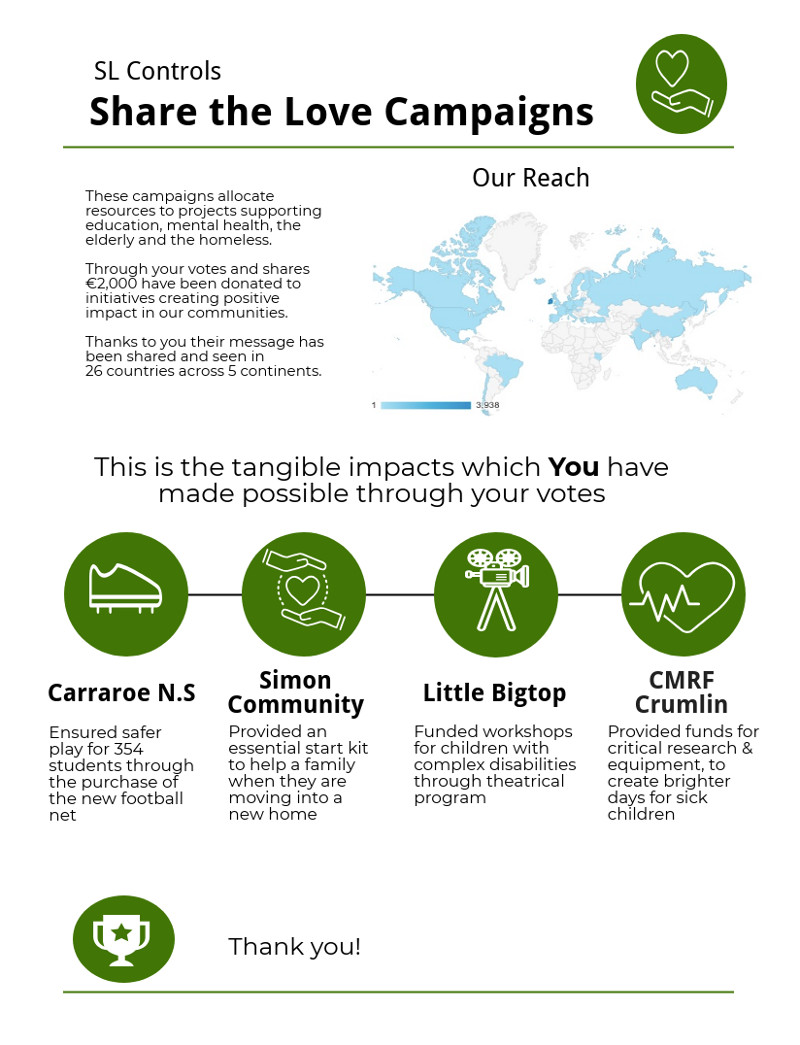 Emer Feeney is a HR Generalist at SL Controls. She said: "We are really pleased with all four Share the Love campaigns in 2018. The response from everyone – staff, their family, and their friends – was fantastic.
"We're now looking forward to building on that success in 2019. SL Controls works across Ireland but each of our four regional offices is part of the communities they come from. Supporting those communities in any way we can is important to us.
"The first Share the Love campaign of 2019 will be starting soon – watch this space."