At SL Controls, we want all our employees to live well as we care about their health. That's why we have put in place a structured workplace wellbeing programme called Live Well at SL.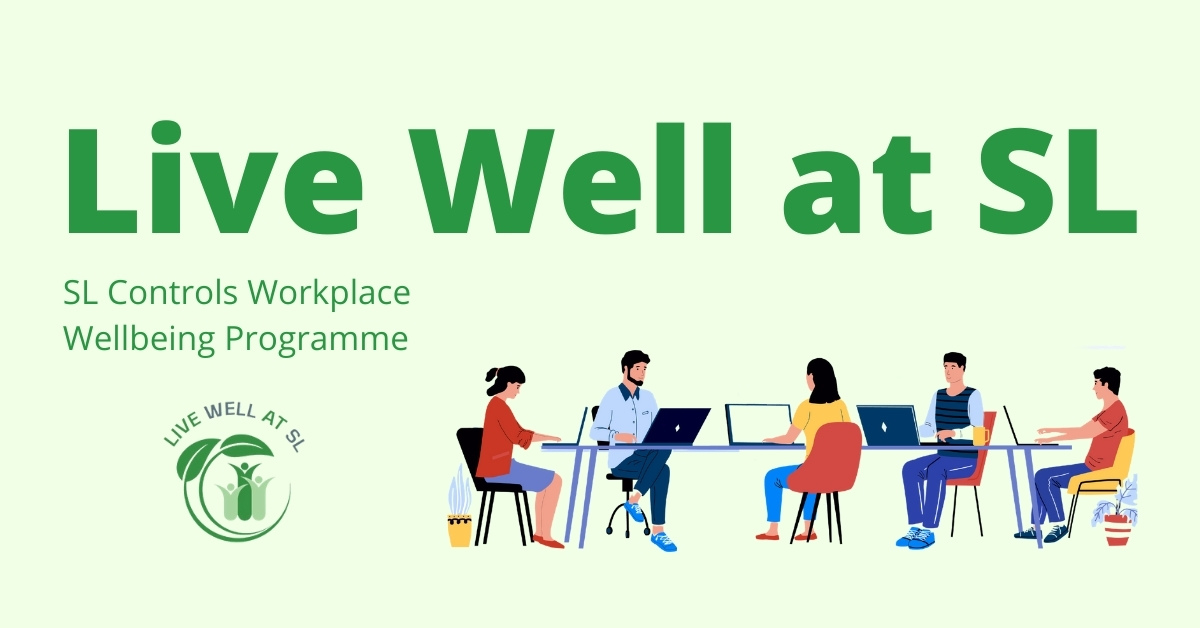 Live Well at SL is a central part of the culture at SL Controls as it aligns with our values, such as promoting camaraderie and getting the right work/life balance. We are passionate about promoting workplace wellbeing, with active participation at all levels of the company. This has never been more relevant than it is now, with so much change and uncertainty in our daily lives.
Why Are Workplace Wellbeing Programmes Important?
Most of us try to live as healthily as possible. However, it can be challenging to live a healthy lifestyle if your employer's only focus is on your performance and the performance of the business. After all, you shouldn't have to pause living healthily for eight hours or so every day.
Forward-thinking and innovative employers across Ireland are recognising this fact in increasing numbers. After all, it is much easier to improve productivity and profitability when you have a happy and motivated workforce.
Wellbeing programmes can't deliver this on their own, but they play an important role.
What Are the Benefits of Workplace Wellbeing Programmes?
There are several reasons why workplace wellbeing programmes are important. For employees, they develop an enhanced connection with the workplace as they can see their employer is genuinely interested in their wellbeing. This improved connection with their employer enhances job satisfaction.
Workplace wellbeing programmes can also help to reduce stress. The activities that are typically part of a workplace wellbeing programme also help employees get to know their colleagues better, and they can be effective virtually, as well as in person.
Plus, employees can also benefit from improved health and fitness levels as they take part in workplace wellbeing activities.
Workplace wellbeing programmes are also beneficial to businesses. These benefits include reduced staff turnover, lower sickness and absence rates, reduced risks, improved productivity, increased morale, and overall improvements in standards. All these benefits help enhance the level of service delivered to clients.
Live Well at SL
At SL Controls, we schedule our Live Well at SL programme annually by working with our Well-Being Champions to develop a calendar of events for the year ahead. We communicate the schedule of events regularly throughout the year.  The different activities and initiatives include:
Educational and awareness bulletins on topics such as Working from Home, Time Management, and Keeping Fit.
Practical activities and challenges that employees can participate in remotely or, when possible, in the workplace. An example of an internal activity is our Step Challenge. An example of an external activity is our Limerick team taking part in the company relay marathon challenge.
Practical support such as our employee assistance programme, providing useful equipment such as water bottles and mindfulness cubes, as well as providing information on local events.
General encouragement from peers as a result of taking part in the various wellbeing activities as well directly from management.
Body and Mind
In addition to Live Well at SL, SL Controls also has a programme that focuses on creating an open culture surrounding mental health in the workplace. It is called Think Well at SL and is a crucial element to our overall employee wellbeing strategy.
As with Live Well at SL, Think Well at SL includes awareness programmes, distribution of information, practical help and support, and fun activities that all employees can get involved in.
Workplace Wellbeing and You
You spend a lot of time working and with your work colleagues, either virtually or in person. It is just as important you live healthily during that time as any other, plus it is important that your employer cares about your wellbeing.
One of the ways we do this at SL Controls is by the Live Well at SL programme.