What is the Green Ribbon Campaign?
The annual Green Ribbon Campaign takes place every May. It aims to get people talking openly about mental health problems and challenges the associated stigma that sometimes comes with mental health issues. The Green Ribbon campaign is managed by See Change, the national stigma reduction partnership. SL Controls is currently taking part in the See Change Workplace Pledge.
Why talk about mental health?
Being open and honest about our mental health is important. Research shows the stigma often associated with mental health means many people hide their problems and are reluctant or embarrassed to look for help or support. As a result, people suffering with mental health problems can become isolated and feel helpless.
At SL Controls, we have Start the Conversation posters on display in our offices and provide our employees with practical tips for approaching a colleague they believe may be suffering from a mental health problem. The posters advise that sometimes the most helpful thing you can do is let someone know you are there for them and simply listen.
How is SL Controls supporting Green Ribbon Month?
Wearing the Green Ribbon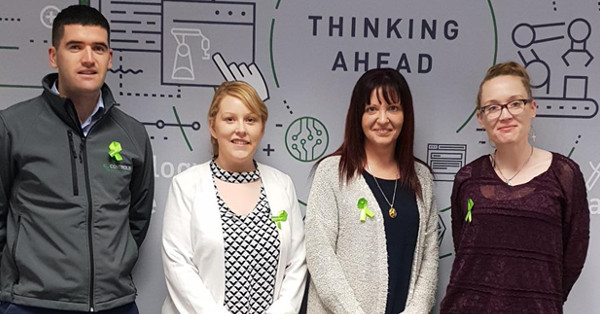 We are distributing Green Ribbons across the company. We are also asking our employees to wear the ribbons as a visual symbol to end the stigma surrounding mental health difficulties.
Educating Employees on Mental Health and Stigma
See Change's What is Stigma leaflet is being made available to employees, so they can learn more about the effects of stigma.
Mind Your Mind Photography Competition
SL Controls is also running a photography competition to mark Green Ribbon Month. Experienced and novice photographers are invited to take part and submit pictures based on the theme Mind Your Mind"
SL Controls' HR Generalist, Emer Feeney, explains: "There are many ways we can mind our mental health and each person in SL Controls will have a different way to relax, switch off, or unwind.
"We want to learn about the things that make our employees feel uplifted as well as what helps them to maintain positive mental health and wellbeing. It could be a photo associated with their hobbies e.g. a sporting team, sports equipment, sports medals, a painting, other types of artwork, or healthy cooking. It could also be a scenic photo of a place where they go to unwind such as a walkway or a beach.
"Entries can be submitted from mobile phones, so it's not about the equipment or the technical qualities of the photo. Instead, it is the photo's connection to the theme, as well as how the employee captured it, that is important.
"We hope this will inspire our staff to focus on their mental health. It may give us some new ideas for our Think Well and Live Well at SL programmes too by learning what activities/hobbies our staff are involved in outside work."
The photos will be shared internally at SL Controls and we'll announce the winners announced at the end of May.
Finally, SL Controls will support #TimetoTalk on Friday 4th May 2018 on our social media platforms.