The smart factory and digital manufacturing technologies are the future of manufacturing. That said, change in business carries risks, particularly when those changes involve creating fundamentally different business and manufacturing processes. Smart factory technologies are not immune to such risks.
One of the clearest examples of how the smart factory can go wrong comes from Tesla and the early days of production of its Model 3 electric car. While production processes have significantly improved at Tesla, those early days provide valuable lessons on implementing smart factory solutions.
Descent into Hell
Tesla – and specifically its innovative CEO Elon Musk – made much of its fully automated production lines when it was introducing the much-anticipated mid-size all-electric car, the Model 3. The ultimate goal was that robots would completely take the place of humans in "alien dreadnought" factories to manufacture the Model 3 and other cars.
Tesla even bought a company that specialises in automated manufacturing to accelerate its vision for a fully robotic production line.
It didn't take long, however, for problems to occur, most evidently in missed production targets in those early days. At the end of 2017, Musk described manufacturing the Model 3 as "production hell". This was at a time when he was sleeping in the company's conference room so he could work all-nighters trying to fix the problem.
Musk eventually wrote in a Tweet: "Yes, excessive automation at Tesla was a mistake. To be precise, my mistake. Humans are underrated."
Fast-forward to today, and the position of the Tesla Model 3 and the company's manufacturing processes are much transformed. Musk and the Tesla team continue pushing the boundaries of innovation in areas like digital manufacturing, production processes, and automation.
They are building prefabricated factories in a fraction of the time it would normally take to build a factory, and they are manufacturing at an impressive scale. For example, a manufacturing plant that Tesla bought in 2010 from GM and Toyota is thought to now have a production capacity of around 400,000 cars a year, up from just 10,000.
What, however, can be learned from the early mistakes and challenges that Tesla faced in its forceful early push into smart factory and digital manufacturing technologies? One of the most significant is the importance of building a value proposition.
Building a Value Proposition for the Smart Factory
When considering smart factory technologies and how you can implement them on your production lines, the first step you should take is to build a value proposition.  This is the only way you will fully understand the impact that digital manufacturing and related Industry 4.0 technologies will have on your business.
Building this value proposition involves several steps:
Properly analysing potential solutions applicable to your plants.
Assessing the current digital maturity of your equipment and systems.
Developing a technology roadmap.
Preparing a business case that includes expected productivity gains and efficiency savings as well as risk assessments, analysis of the impact of the new technologies on other parts of your business, how you should measure results, recommended next steps, potential opportunities, and more.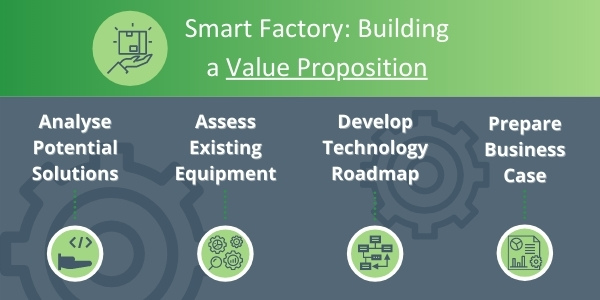 It is also good to understand the difference between "leading edge" and "bleeding edge" technologies. These two terms provide an important distinction to a broad group of technologies often described as "cutting edge".
Bleeding-edge technologies are cutting edge, but they are also so new they have yet to be proven. Avoiding bleeding edge technologies is almost always the best approach.
Leading-edge technologies are also cutting edge, but they already have a proven track record of success. These are the technologies you should focus on.
Walk Before You Run
It's an old cliché but walk before you run is apt when it comes to smart factory and digital manufacturing technologies. In other words, you should never implement a smart factory solution for the sake of the smart factory. You shouldn't do it because it is the cool new tech either, or because there is a perception that your competitors are doing it.
Instead, you should explore smart factory solutions in the context of improving your business. The starting point, therefore, should be understanding what those improvements will be. You can then make an informed decision on what's best for your business.