Successful projects don't happen by chance. They need careful planning, proactive management, proven quality control measures, effective design, proper resourcing, and more. At SL Controls, we use an approach to deliver projects that we call QUAD. It is implemented on all systems integration projects. It involves building each project on four essential pillars of success:
Q – Quality
U – Utilise
A – Accomplish
D – Design
The pillared structure of the approach is key to its success. It is not linear where one element follows another. Instead, each of the four pillars is equally important and is crucial at all stages of project delivery.
Without a focus on each of the four pillars, one or more might crumble or buckle putting the whole structure – or project – at risk.
What is QUAD?
To make QUAD work when delivering a project, it is essential to have good communication with all individuals and teams involved, both internal and external. Effective collaboration is essential.
The QUAD project delivery structure includes the following elements:
Quality – the assurance of a successful project. This element is delivered in accordance with our Quality Management System (QMS) where we implement a peer reviewed risk-based approach. This is supported by critical internal processes such as change management, document control, training, and risk management. These supporting processes are paramount to ensuring our projects are delivered to the highest possible standards.
Utilise – this is the enabling element of a successful project. Much of this part of the delivery involves the utilisation of the existing team through upskilling and, where necessary, recruiting new members. In addition, staff retention initiatives are incredibly important to maintain resource continuity.
Accomplish – this is the execution pillar where the focus is on engineering the project to a successful conclusion. As this is the doing element of the project, Safety is the single most important component. Therefore, it involves the execution of Safety Risk Assessments, Safe Plans of Action, and Method Statements. This pillar is also closely integrated with the design pillar and there is a constant feedback loop.
Design – this is a pre-requisite of all successful projects. As a result, the bulk of the heavy lifting with this pillar happens in the early stages from the initial scoping work to completing the design. Sticking with the QUAD philosophy, however, the design phase is never truly complete and remains an important pillar of the project for the duration.
As you can see, some of the elements above have a company level perspective as much as a project level perspective. Talent retention is the most obvious example, along with internal team collaboration. In other words, for QUAD to be truly effective, the approach must be accepted and championed by all departments and at all organisational levels.
When this happens, the elements come together to ensure the successful delivery of projects.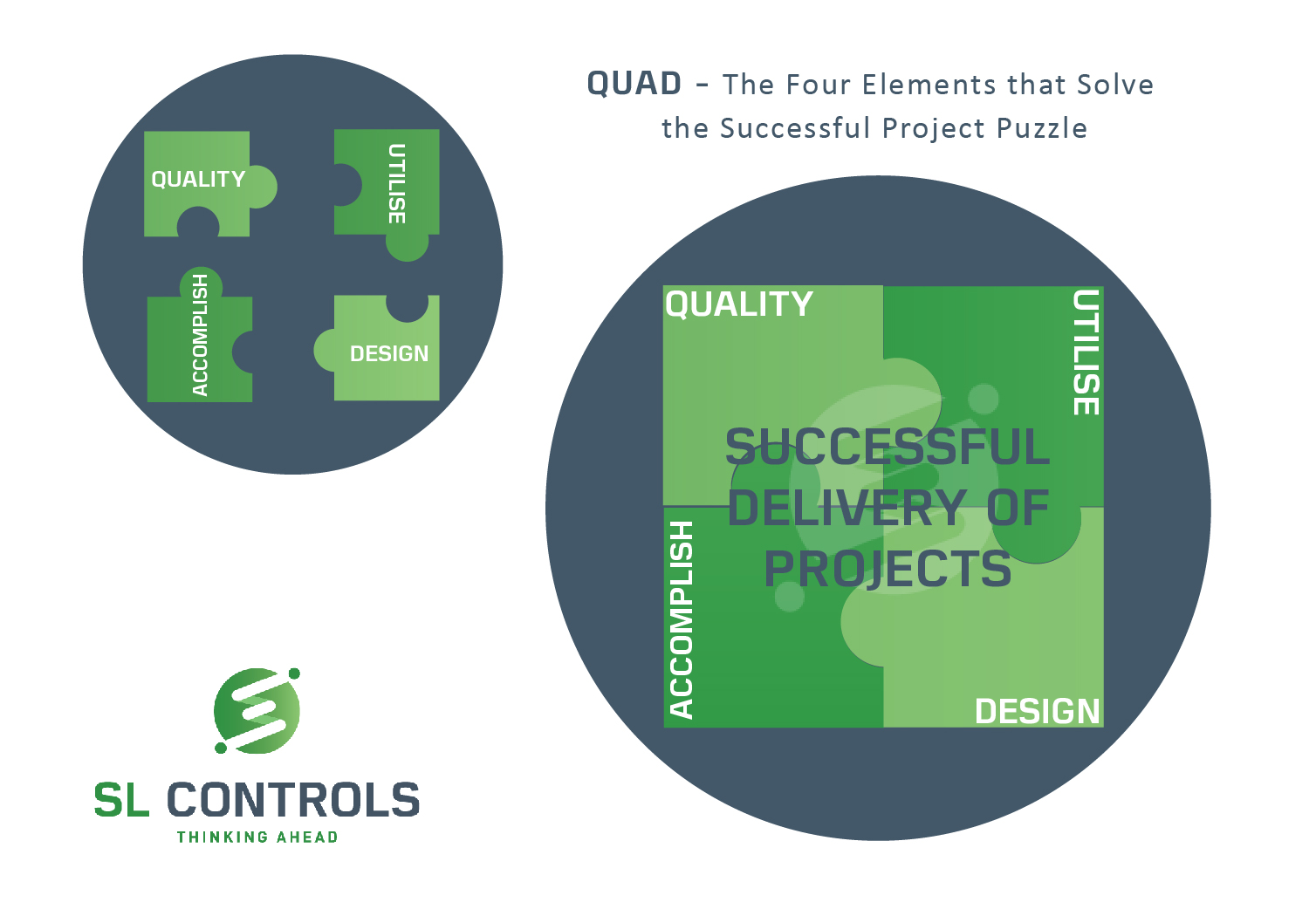 Benefits of the QUAD Approach
Quality – delivers quality throughout all stages of the project to both internal and external standards.
Flexible and agile – with QUAD, it is possible to quickly and efficiently adapt to changes in a project's scope. Being flexible and agile also allows you to scale up a project with minimal disruption or complication. This particularly applies when implementing a project by phases or when you start with a pilot.
On-time delivery – QUAD makes it possible to meet deadlines.
Deliver on budget – completing projects on budget is another crucial objective of using the QUAD delivery approach.
Ensure resources are in place when they are needed – many projects stand and fall on the availability of resources. QUAD's robust, integrated, and dependent structure mitigates this risk.
Delivers on expectations – as well as delivering projects on time and on budget, QUAD also delivers on other expectations. This includes achieving the project's expected outcomes and delivering ROI.
Successful Project Delivery
The above is a brief overview of how QUAD helps deliver successful projects. In the coming weeks, we will look at each of the four pillars in more detail, including the challenges faced in each and the strategies used to ensure success.