Getting that first full-time job as a graduate engineer can be tough. It can also be frustrating, particularly when you hear that Ireland needs more engineers. This is because many of the jobs that are available require experience, even though they are graduate jobs.
You do have options, though. Here are our tips for getting your first job as an engineering graduate.
Start as Soon as Possible
It is never too early to start work on getting your first job as an engineer. This doesn't necessarily mean applying for jobs. You should, however, start the planning and preparation work as soon as you can. This includes getting experience, researching potential employers, being aware of what is happening in the industry, and preparing your CV.
Get as Much Experience as Possible
Getting experience is one of the trickiest parts of the process, but it is also essential.
The ideal option is to get a placement in a company that operates in the field of engineering you want to go into. A placement will give you the experience you need, plus you will get a clearer indication of what you want to do next.
If a formal work placement through your college course is not possible, you should still seek out work experience wherever you can. You should even apply for temporary jobs in your chosen field over the summer months – every bit of experience you can get, even if it is only a day, will help.
Remember, all the experience you have outside your studies will be of benefit too. This includes jobs that are not related to engineering or if you help run a sports club or local organisation.
After all, employers want more than just technical skills from the people they recruit. They also want communication skills, problem-solving skills, teamworking abilities, flexibility, and more. You can show experience of these skills in almost any job.
Tidy Up Your Social Media Profiles
 Your social media profiles need to look professional. That doesn't mean corporate, soulless, and stuffy profiles that are all about work. Instead, your profiles on social media should reflect your personality while also portraying someone trustworthy and employable.
Pay particular attention to your LinkedIn profile, setting one up if you don't already have one, and optimising the page if you do.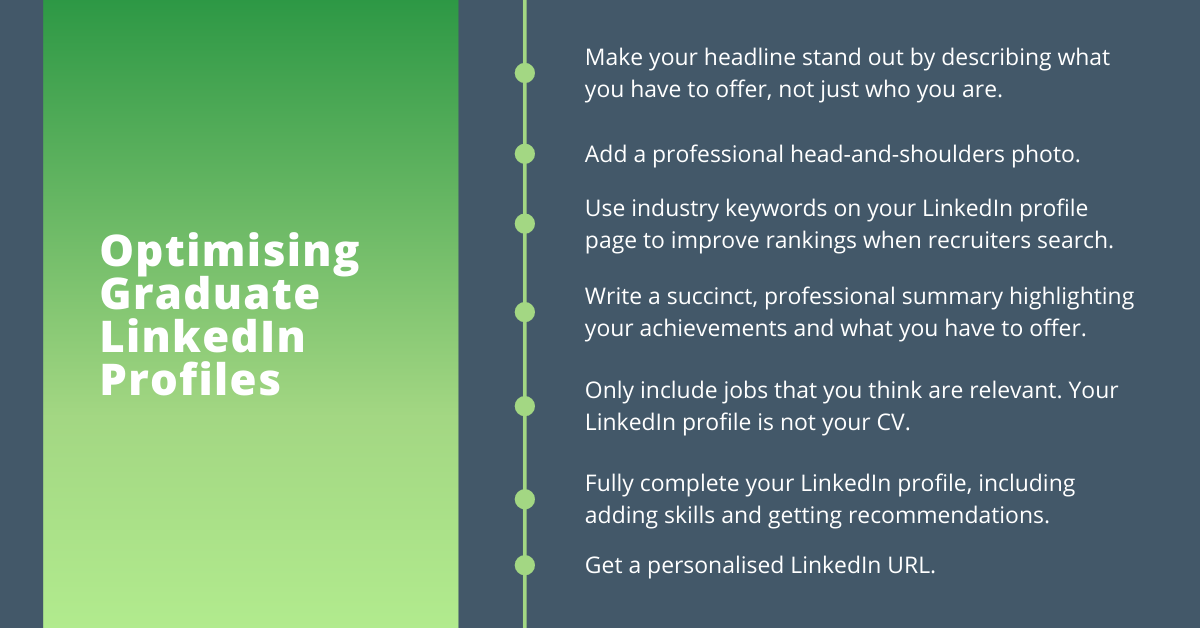 Check Your Email Address
Do you still have an email address that you registered years ago but now doesn't present a professional image of you as a potential employee? You're not alone, but now is the time to get an email address that gives the right impression.
Don't Just Target Your Ideal Job
When you start looking for graduate jobs to apply for, don't just focus on your ideal job at your ideal company in your ideal industry. Being more flexible and open will increase the opportunities that are available.
Do Target Small and Mid-Sized Companies
Large companies offer benefits, but some of the most exciting technologies and projects can be found in Ireland's small and mid-size companies. Often these companies are located outside Dublin.
In addition, you will be exposed to a range of different experiences when you work for a smaller company, giving you better opportunities to enhance your skills, work in different sectors, and more.
Speak to Your Lecturers in College
Your college lecturers will have contacts in the industry, so they will know the companies that are open to recruiting graduate engineers, particularly in the local area.
Speak to Your Contacts
Speak to people you know in the industries you hope to work in. This could be family, friends, acquaintances, or other connections. It is surprising how often these conversations can lead to the submission of an application form for a job you weren't aware of. Even if they don't, you might come away with helpful advice.
Go to Careers Fairs
Careers fairs allow you to find out about companies that recruit graduates, and they give you the opportunity to speak to these companies in person. You can also increase your network of contacts.
Tailor Your Application
When applying for a vacancy, make sure you tailor your application as much as possible. This will take you longer to complete, but it will also increase your chances of being called for an interview.
Finding out about the company can help. Also, make sure you include relevant keywords and phrases when completing your application, paying attention to the job description when doing so. Recruiters look for these keywords and phrases when filtering through applications, while some companies use automated systems. By tailoring your application, you are likely to have more success.
Prepare Well for Interviews
You should also spend time preparing for job interviews in advance. This includes researching the company to give you a better understanding of its products, services, customers, and the industries it is involved in. It can also be helpful to learn about the background of the company and to understand its ambitions.
Keep Going and Stay Positive
Finally, don't give up. As with graduate positions in other industries, you may face rejection multiple times before you secure a job. It will be worth it in the end, though, so stay focused, stay positive, and keep going.
Bonus tip – keep an eye on our website for potential engineering graduate vacancies.