With only one week to go, the countdown to Limerick for Engineering is on!
Now in its fifth year, the engineering showcase will take place on Thursday 7 March from 5.30pm – 8.30pm. The event is FREE and is open to students, parents, guidance counsellors, teachers, and anyone interested in an Engineering Career.
The location is the same as last year in the Departures Hall at Shannon airport with FREE parking for all.
Limerick for Engineering is an industry-led initiative that SL Controls is proud to be involved in. The aim is to promote careers in engineering to ensure we attract the best possible talent to the industry, especially women.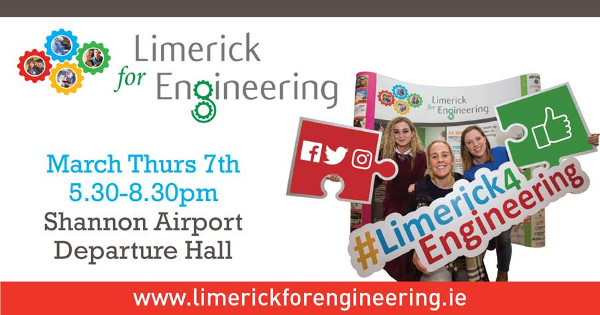 "The showcase is a fantastic opportunity for students to speak with industry professionals about different aspects of engineering as well as which courses to pursue to become an engineer in a specific field," said Deirdre Loughlin, SL Controls Marketing & Administration Executive. "Students will also get to see and interact with some interesting technology on the day."
Vinnie Boyd, Business Development Associate at SL Controls, said: "It is a free event and is open to all to consider a rewarding, challenging, and exciting career in engineering. The showcase is set to be bigger and better than ever with nearly 50 companies exhibiting on the day. There will also be a special appearance by the Liam McCarthy Cup. We are sure it's going to be a great evening.
"Plus, with industry 4.0 ramping up, we look forward to seeing some of the technology on show."