Most people working as an engineer in Ireland or elsewhere in the world follow the traditional career route – get an engineering degree, find employment, advance your career, and, often, obtain post-graduate degrees and other qualifications.
This applies to SL Controls as much as it does in other engineering companies – most of our team have followed a career path similar to the above.
There are people who break the mould, however, proving you can become an engineer even if you have a background that is different to the norm.
From Archaeology in the US to Controls System Engineer in Ireland
One example we have on our team at SL Controls is Jacob Mussler. He is currently working as a controls system engineer in our Limerick office, but his journey to that position is anything but conventional.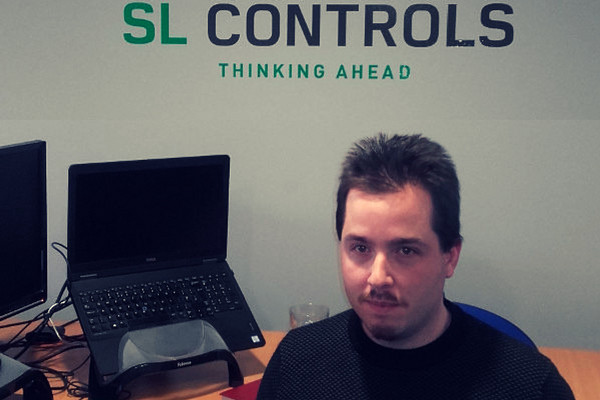 Originally from Colorado in the US, he studied archaeology at university, obtaining a degree. He graduated, however, when the US, like Ireland, was struggling with the financial crises that started in 2008. Jobs were hard to come by, particularly in his chosen field of archaeology.
A different approach and qualification were needed so Jacob joined the US military to work as a maintenance technician mostly on ships getting serviced in dry dock facilities. This involved working on multiple ship parts and systems, so he gained considerable experience with different technologies, platforms, machines, engines, and equipment.
Jacob continued on this career path when he left the military in 2013, getting a job with Mercedes as a multi-craft maintenance technician. Although the groundwork had been done, it was in this role that he made his first steps towards an engineering career.
This happened in a light-hearted way – he took a Siemens touch panel and used the white, green, red, and blue lights to make Christmas trees. The controls engineer for Mercedes' US operations noticed, however, identifying an aptitude for the field. As a result, he put Jacob in a controls group for training and upskilling. In other words, Jacob went from diagnostics work to writing code.
The Step Up
Unfortunately, Mercedes didn't have a position that would let him use the new skills. With help from the Mercedes controls engineer, however, he got a job with Intrepid Potash at one of their mining facilities in New Mexico. That was in 2014.
Jacob's title was controls technician but nobody else at the potash mine worked in controls, i.e. there was no controls engineer. So, Jacob essentially did everything.
"I was basically thrown in so had to progress very rapidly," Jacob said. "They'd ask if I could do something and if I couldn't, I basically had to figure it out. It was a steep learning curve, but the experience and knowledge I got from working at the mine were invaluable."
The next move came in 2015 when he went to work for the City of Loveland, Colorado as a PLC and SCADA programmer in the water department. It was in this role that he met a recruiter for SL Controls.
Ireland Beckons
Jacob first discussed a position with a different company located in Baton Rouge in the US but that wasn't something that interested him. Moving to Ireland, however, and a position with SL Controls, did.
He said: "I didn't have a connection with Ireland except through my wife's family, but I had been in Ireland before. During my archaeology degree, I came to England as part of the course. While there, I took the opportunity to take a trip to Ireland. Over those two weeks, I fell in love with the place. That made it easy to make the decision when I was offered the opportunity to move to Ireland."
So, Jacob, his wife, and his three-year-old daughter moved here in 2016. With his military background, however, where moving is something you do on a regular basis, the resettlement in Ireland was simple. He was straight into a job too, working for SL Controls on a project for a large client in Dublin.
Jacob is now based in the Limerick office. Given the clients that SL Controls has on its books, there is a much larger compliance element to the role, but the programming and other skills are essentially the same. Jacob's unconventional career path was, therefore, a highly successful one.
Plus, he likes the position he currently is in. He said: "I like living in Ireland and SL Controls is an easy place to work. The projects are interesting and the approach to HR is the best I've encountered."
"Moving to Ireland and SL Controls has been another step in the evolution of my career."