Relocating for your career is a major undertaking, particularly if you are not familiar with the new location you are moving to. For SL Controls Field Engineer Dominic Linden, it was a whirlwind involving three months of training and working in several different countries while also getting settled in his new home – Ireland.
Dominic is originally from Finland where he qualified with a bachelor's degree in electrical and automation engineering. After university, he went to work for a small company providing automation solutions but wanted to move his career to the next level.
This was 2015, around the time that Microsoft closed the last Nokia office in Finland, so there were a lot of experienced engineers who were out of work. In addition, Dominic had always wanted to live and work abroad.
He started looking for career opportunities in places like Sweden, Norway, and the UK. He also looked in Ireland where he found a potential opportunity at SL Controls.
He had never been to Ireland before, but he liked what he heard during the remote interview process, so decided to take the position when it was offered.
This was the start of the three-month whirlwind.
Getting the Right Support
"It was a busy time, everything was new, and there was a lot to do," said Dominic, "but it was exciting and interesting too."
Dominic received the job offer as a field engineer on a Monday, was in Ireland by the Thursday of the same week, and then flew to New Jersey in the US the following day for three weeks of training with one of SL Controls' partner companies, Systech International.
On his return to Ireland he was straight into the field for on-the-job training with an experienced engineer, returning to Ireland most weekends. This lasted for two months during which he found an apartment.
Two weeks off followed, enabling Dominic to get properly settled into his new home. His Finish girlfriend moved to Ireland too.
"There was a lot to do moving into the new apartment and getting registered for things like tax," Dominic said. "I received a huge amount of support from the HR team at SL Controls, however, which made the process of settling in so much easier.
"Because it was so hectic in the beginning, it almost felt like I was a tourist. There wasn't much time to get involved in sports or meet new friends.
"Things are much more normal now, though, and we are very settled with a lot of friends. My girlfriend now has a job here too, and we've both had a chance to get to know Ireland better."
The Life of a Field Engineer
Dominic is also settled in his role as a Field Engineer. He works three weeks on and one week off, returning to Ireland most weekends. The countries he works in include Germany, France, Switzerland, Spain, and other Nordic and Western European locations.
Dominic said: "I do like the travelling aspect of the job, which is important. You have to get used to it at first, but it is exciting, especially when you don't go to the same places all the time. It is really interesting visiting new countries and experiencing them first-hand.
"You do get fed up with airports, though.
"I get to see the countries I work in too, especially when I work over two weeks and stay during the weekend. That's when you can travel and see a lot."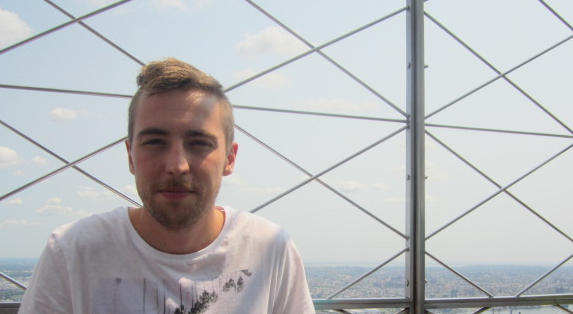 Plans for the Future
Dominic is due to start a Project Engineer course to take his career to the next level.
"Being a Project Engineer will mean less travel," Dominic said. "I will be in the field sometimes, but it will be more office based designing software and providing backup to the Field Engineers. It is an exciting opportunity.
"SL Controls is a really ambitious company and they are good to work for, so I am looking forward to this next stage of my career."
What about living in Ireland, though?
Dominic said: "I love it here in Ireland. The culture is fantastic, and the people are really friendly. I love the pub culture and the natural scenery is stunning, particularly on the Wild Atlantic Way which I have almost completed.
"Who knows what the future will bring, but I definitely feel at home in Ireland."