Systems integration is an essential part of any modernization and improvement project in manufacturing organizations. Systems integration is also the cornerstone of Industry 4.0, and it is central to the development of the smart factory of the future. What does systems integration mean in practice for manufacturers in the life sciences sector? One of the primary objectives is to optimize SCADA, MES, and ERP systems.
This could apply to existing systems as well as during the implementation of new platforms. For example, you might already have SCADA (supervisory control and data acquisition) and ERP (enterprise resource planning) systems and are now exploring the benefits and ROI of an MES (manufacturing execution system) platform. In this situation, systems integration is essential for the successful implementation of your new MES.
Of course, SCADA, MES, and ERP systems are not the only platforms that are important to your operations. Other equipment, applications, and platforms could also benefit from being part of your systems integration plans. Examples include LIMS (laboratory information management systems), QMS (quality management systems), and PLM (product lifecycle management) platforms.
That said, SCADA, MES, and ERP are arguably the three most important levels of integration to achieve because of where they sit in a manufacturing organization's technology stack. In simple terms:
ERP – office and business operations
SCADA – the automation of processes on the production line
MES – the link between the two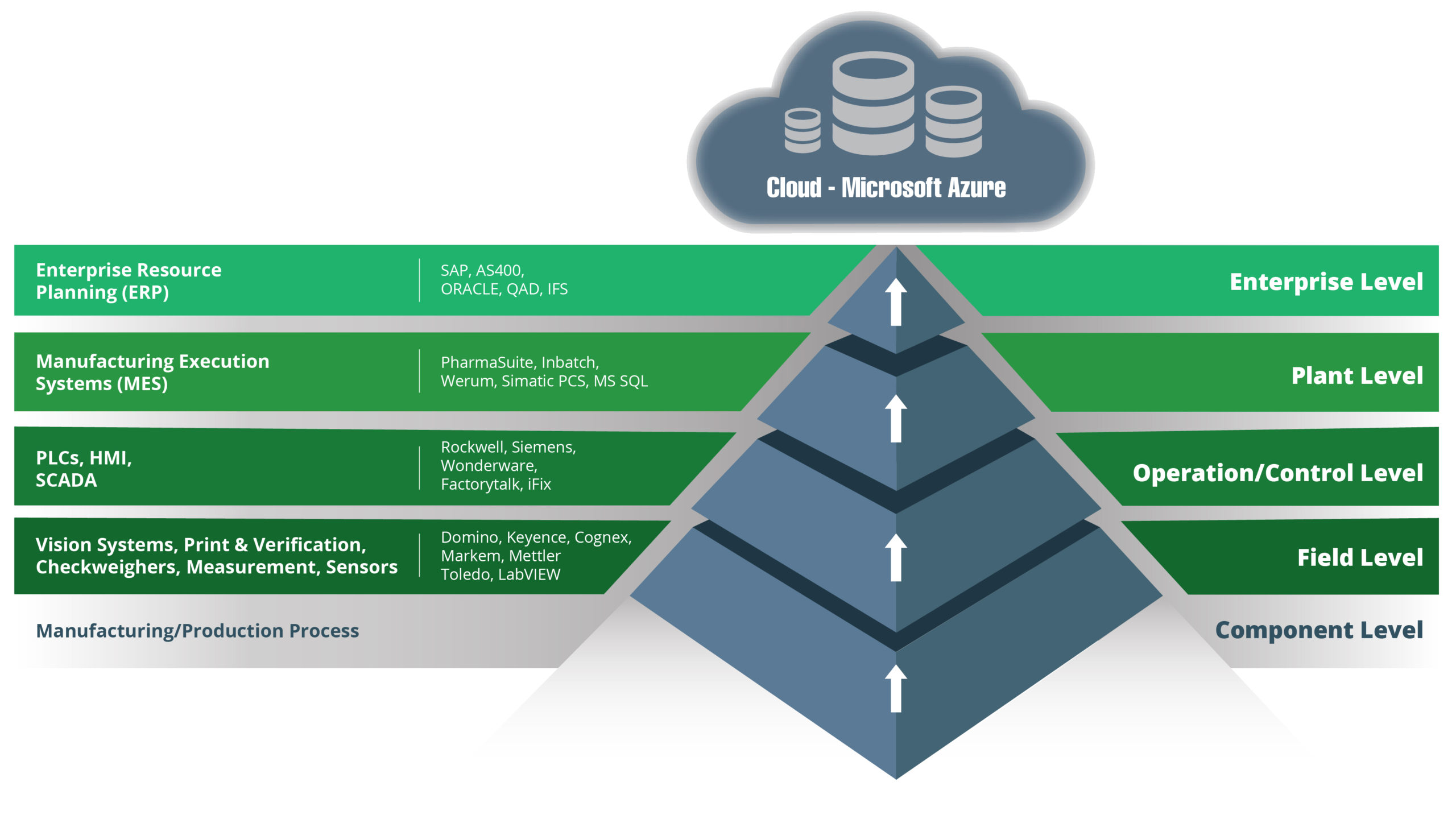 Making Use of Data and Getting the Most Out of Your Systems
To understand the importance of systems integration for MES, SCADA, and ERP platforms, let's first look at what each platform is responsible for. There are some overlaps depending on the system and vendor that you choose, but the following descriptions apply in most situations.
What is an ERP Platform?
ERP platforms facilitate, manage, and automate a wide range of the administrative and operational functions of your business. This includes everything from finance and purchasing to sales, customer service, and logistics.
What is SCADA?
SCADA systems control and monitor the equipment on your production line, usually through PLCs (programmable logic controllers). They collect data, monitor alarms, and enable real-time monitoring of your production lines and equipment.
What is an MES Platform?
MES platforms manage the processes involved in turning raw materials into new medical devices or pharmaceutical products. MES platforms can also optimize OEE, and they have features that can include scheduling, performance analysis, raw material tracking, quality management through statistical process control, and production optimization.
Connecting the Three Layers
SCADA, MES, and ERP systems all produce and monitor data, and they all automate and optimize processes. Without effective integration, however, they will operate in isolation, so they will never achieve full optimization. This is only possible when they are connected and working together, with data flowing seamlessly between the platforms.
By integrating your SCADA, MES, and ERP, you will have a single source of truth covering your entire operation – at office level, on the factory floor, and everything in between.
The Benefits of Integrating SCADA, MES, and ERP
Reduces production line downtime and improves OEE
Improved batch control processes
Streamlined processes from the factory floor to office-based functions
Improved supply chain resilience and efficiency
Reduced waste, including waste from raw materials, overproduction, transport costs, and energy use
Move to data-driven decision-making (both manual and automated data-driven decision-making) with the availability of real-time data streams covering production, quality, supply chain, finance, planning, procurement, maintenance, and more
Eliminate mistakes that come from manual data handling
Enhanced oversight at all levels, including operator, engineering, management, and C-suite
Improved customer, user, and patient experience
Enhanced competitiveness
Reduced costs through efficiency savings, productivity improvements, and greater levels of automation in workflows, processes, and data handling
Improved alignment between the different functions in your business, including those where there is currently minimal alignment
Improved compliance processes
What About the Challenges of Systems Integration?
There are challenges to overcome with systems integration projects that involve SCADA, MES, and ERP platforms. The main challenges concern the disconnect between OT (operational technology) and IT (information technology). Both OT and IT produce, store, and use data in different ways, and they use different languages, hence the disconnect.
OT is the system used on the factory floor, while IT is for business and administrative operations. SCADA and MES typically come under the OT umbrella, while ERP is an IT system.
Therefore, solutions need to be developed to facilitate the integration of these platforms and ensure a seamless transfer of data.
Getting the Support that You Need
At SL Controls, we have extensive expertise in systems integration projects, from overcoming the challenges described above to ensuring your SCADA, MES, and ERP platforms are fully optimized. Our expertise will also ensure you get maximum returns from the investments you have made in these systems. Get in touch today to find out more and discuss your requirements.