In engineering, technology doesn't stand still. Something that is the future soon becomes the norm with new developments coming hot on its heels. You only have to look at the rapid development of Industry 4.0 and Smart Factory technologies to see how fast technology advances.
Keeping up with these changes through training and professional development is, therefore, crucial to your career. Working for a company that prioritises in-house training and upskilling should be your goal.
It's not just technology, either, as there are other skills you can learn or improve to advance your engineering career. This could be anything from the latest manufacturing process theory to leadership skills to soft skills like improving how you communicate.
By diversifying your expertise, you can become involved in new projects that will add to your experience.
New Career Opportunities
One of the main benefits of upskilling is to open up new career opportunities. This could be in a managerial role, or it could be to become more specialised in a particular area. These are just two examples, however, as there are many career paths that engineers can take.
The best approach is to work with your company/manager to understand the areas where there are potential skills or resource gaps. This will be based on things like market needs, trends in your industry, and the requirements of the company you work for.
You then need to match these skills or resource gaps with the direction you want to take in your career. You will then have a clearer understanding of the skills you can learn, and the training courses you can enrol on.
Other Benefits of Upskilling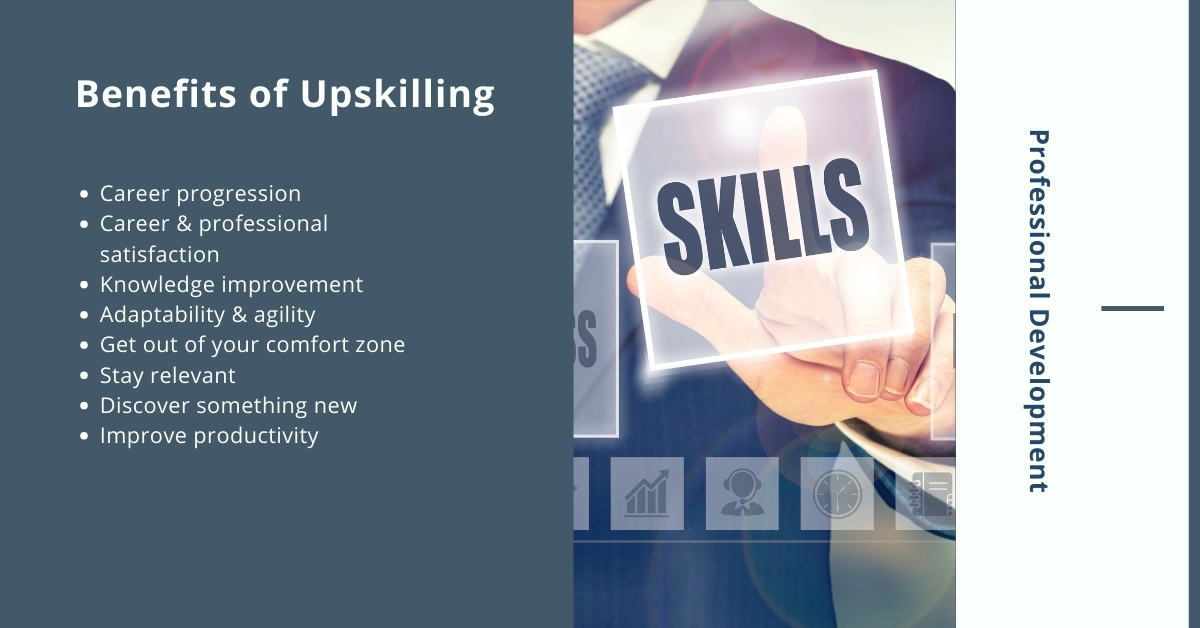 Some other benefits you will realise when you continuously upskill throughout your career include:
Enhances satisfaction – this happens in a number of ways. You will have greater job satisfaction, for example, when you get the opportunity to take on new tasks and challenges. In addition, you will get a boost from how upskilling helps your career to progress. Upskilling also ensures your capabilities stay relevant to current market realities and customer expectations, and it can help prevent you from getting stuck in a rut.
Improves knowledge – your knowledge in a specific field of work will improve, which will enhance your value and employability. If you are already in a job you like, improved knowledge will help make you more productive and will increase the contribution you can make to the projects you work on.
Makes you more adaptable and agile – your employer will be able to assign you to a greater range of specific tasks and projects when you have skills it values.
Gets you out of your comfort zone – this benefit should not be underestimated. Getting out of your comfort zone is a great way to push your preconceived limits and achieve something new in your career.
Helps to future proof – with technology changing fast, you need to remain relevant. This means developing your skills to keep up with the changes.
Discover something new – by upskilling, you may discover a passion you didn't know you had. This can enhance your levels of personal satisfaction, but it may also put you on a new and rewarding career path that you never thought of before.
Improve productivity – this is a benefit you more often find on an employers' list, i.e., one of the benefits of having an in-house training policy is an increase in productivity in the business. Improving productivity is a benefit to you as an employee, too, as you will achieve more and will demonstrate to your employer you are ready for new challenges and responsibilities that will advance your career.
Benefits to Your Employer are Important Too
Employers need engineers with the right skills to win contracts from customers and then deliver on those contracts. By upskilling, you will help ensure your employer has the skills and capabilities it needs, which will improve the success of the company. This success is of benefit to you, too, not least in job security.
What You Should Look For
While you may understand the benefits of employer-led training and upskilling programmes, you need an employer who has this understanding also. This doesn't mean you can't upskill outside of the work environment in your own time. The ideal situation, however, is working for an employer that values the benefits of training and developing its in-house team.
SL Controls is a good example. Our team includes engineers with diverse skills and backgrounds – this is essential to the delivery of our services. We have a well-developed in-house training programme in place, however, to ensure all members of the team have specific skills we know are important to the success of our projects.
Your employer can't do everything, though. You need commitment, a willingness to learn, and a hunger for moving forward. It can help to keep in mind a quote from the great Albert Einstein:
"Life is like riding a bicycle. To keep your balance, you must keep moving."